We are talking yummyness delivered to your door. Oh yes, get pumped.
**this post contains affiliate links and I will be compensated if you make a purchase after clicking on my links. Thank you for supporting my blog!
Hey guys! Today I wanted to share a few healthy snack ideas! I know it can be a struggle to choose the right snack (satisfying yet yummy) when you are on the go, in between classes, driving to or from work, etc. Snacking is usually where most of us end up letting go of our health and fitness goals out of being hangry- but it does not have to be that way! That is why I`ve teamed up with NatureBox  to bring you healthy, wholesome and DELICIOUS snacks right to your door. Yes. Easy as that. Before I dive into the actual snack ideas I want to share, I first want to tell you guys all about this awesome company!
NatureBox is a company that sells high quality, simple and nutritious snacks. They are free of artificial colors, flavors and sweeteners and include a satisfaction guarantee! I personally think it is so cool because they offer unique food, not just plain jane potato chips and you can select the category you want your snacks to fall under, for example, gluten free, vegan, low sodium, low sugar– are just some of the categories. It makes it super easy to narrow down what you are looking for. They also give you the nutrition facts and ingredients so you know exactly what your eating and there is nothing funky in their food!
Okay- time for the easy, simple and delicious snack ideas!
#1: Mini Belgian Waffles. Yes- they aren`t even bad for you!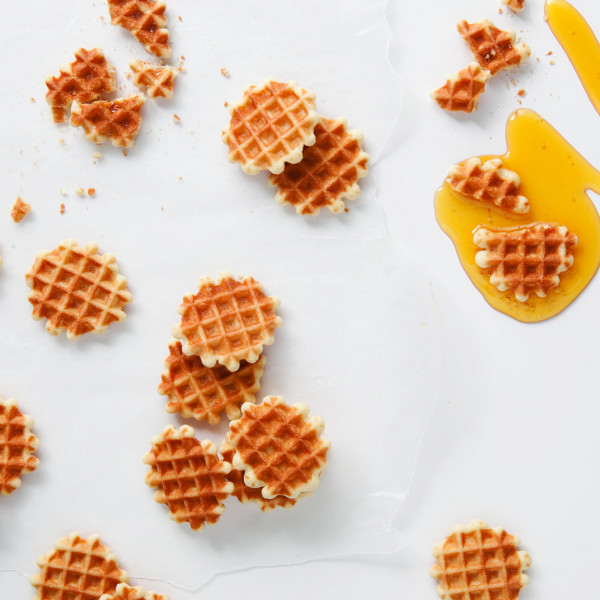 These Mini Belgian Waffles are a great snacking option! Most people wouldn`t think this would be a good idea because everyone knows waffles are not the best for you. These are a game changer people. I personally almost always have a sweet tooth so for those like me, this is a charm! These are the highlights of these awesome MINI (mini always ensures for amazingness) waffles! (They also have a cocoa version.)
Fewer than 150 cals
Non GMO
LESS than 10 grams of sugar
Low salt
Like I said- no plain jane options here! These are a snack game changer because who would have thought you could enjoy mini waffles without going crazy on the sugar and calories?! These contain wheat, egg, and soy so I personally cannot eat them- so eat them for me. please.
#2 Salt and Vinegar Veggie Chips

Salt and Vinegar Veggie Chips hello?! I am a HUGE lover of salt and vinegar flavor chips but they take it to the next level by using not just a potato chip- but a veggie chip. These are perfect for a savory snack that makes you feel just a little guilty, but in reality they are not at all bad for you. Highlights:
150 calories
Low Sugar
Vegan
10% Vitamin A (Hollaaaa)
#3 Dried Fruit

They offer all different kinds of fruit from Dried Mango, Big Island Pineapple, Fuji Apples and more! Dried fruit is a great way of getting in some extra servings in for the day and are easily portable and not as messy, imagine you go on break with some fresh pineapple and you forgot a fork?! Sticky hands people. Their dried fruit, like their dried mango, have a ton of great qualities.
Fewer than 150 calories
Low Fat
Low Salt
Vegan
No added Sugar
Non- GMO
And honestly dried fruit is natures candy, it doesn`t get better than that!
#4 Nut Clusters!
This is one of my favorite things to snack on. An important thing about snacking is you want something that will keep you satiated so you do not end up over eating. In comes NatureBox with their Nutty Power Clusters. These are a combination of nuts and crispy rice and pack a ton of nutrients AND will keep you satiated in between meals. Highlights:
Fewer than 15 grams of carbs (If you are watching your carbs or do a Paleo diet, this is perfect!)
Low Salt
Fewer than 10 grams of Sugar
Non GMO
Vegan
Gluten Free
4 grams of Protein
These are just a few ideas I think would be great if you want to be mindful in between meals. I highly recommend trying out these healthy snack ideas if you struggle with finding exactly what you should be munching on. They all provide flavor and quality and it is so simple and easy to navigate on their website as well as order.
If you are interested, Naturebox offers a $5/ month membership with up to 40% off for members on their products and I am also sharing 30% off your first purchase with the code: EXTRA30 and I definitely think everyone can find something they like through them. This extra 3o% off is only good through Monday, January 30th 2017, so swing by and take a look at this amazing company!
Snacking can be a fun thing while being healthy too- it does not have to be bland and boring! I hope y`all enjoyed these ideas and will give them a try! Let me know if you do and comment below some of your own healthy snacking habits!
xo, Chelsea